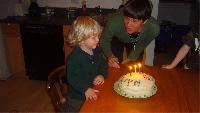 Thoughts
Almost 7
My Dearest Braedwyn,
It's almost your 7th birthday, or should be on this earthly plane. I wonder what you'd be into. What toys would be on your list? What cake would I be making this year? Would frosting still be the best part to you? Would you like David Bowie by now? (Not that I at all knock your cool, ecclectic taste in music).
Your birthday is coming up and it usually means the onset of a deeper depression for me and your Daddy...
more